Bergerac Collection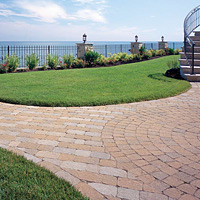 The look of hand cobbled stone™

Offering the same qualities as its larger counterpart, but on a slightly smaller scale, Bergerac is reminiscent of ancient Roman cobbled stone. Its intriguing multi-color blends and circle pavers expand your ability to create incredibly complex and unique designs. Your imagination is your only limit.

Bergerac's rich look creates a wonderful
Old World ambience.

Bergerac serves as the backdrop
for an intimate sitting area.
Shapes and Styles
Discriminating landscape contractors and architects spec Belgard for their projects because they want the best. These professionals know when they choose Belgard, they get the finest interlocking pavers available on the market.
4-piece



2 3/8" x 5 1/2" x 4"
2 3/8" x 5 1/2" x 6"
2 3/8" x 5 1/2" x 8"
2 3/8" x 5 1/2" x 10"

Circle



2 3/8" x 6" x variable"



Ashbury Haze


Cotswold Mist


Gascony Tan


Brookstone Slate


Bristol Beige


Bannockburn Red