Holland Stone Collection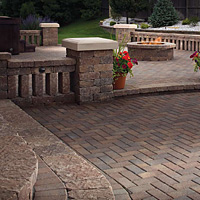 Like brick only better™

With its simple shape and traditional appeal, Holland Stone is a practical choice for a variety of residential and commercial installations. Its exceptional strength and durability combine with a range of captivating color blends that only add to its popularity. Basic in form, its clean, modular shape is the key to a myriad of dynamic design options and applications.

Holland Stone is a practical choice
for walkways and patios.

Hard-working Holland Stone in
an expansive driveway setting.
Shapes and Styles
Belgard pavers are manufactured from a blend of aggregates, cement and pigments, which allow for a multitude of different color blends. In fact, Belgard pavers and walls are produced in a variety of color variations to perfectly complement the different architectural styles and colors found in each region of the country.
6CM



2 3/8" x 4" x 8"


8CM



3 1/8" x 4" x 8"



Ashbury Haze


Cotswold Mist


Gascony Tan


Brookstone Slate


Bristol Beige


Bannockburn Red